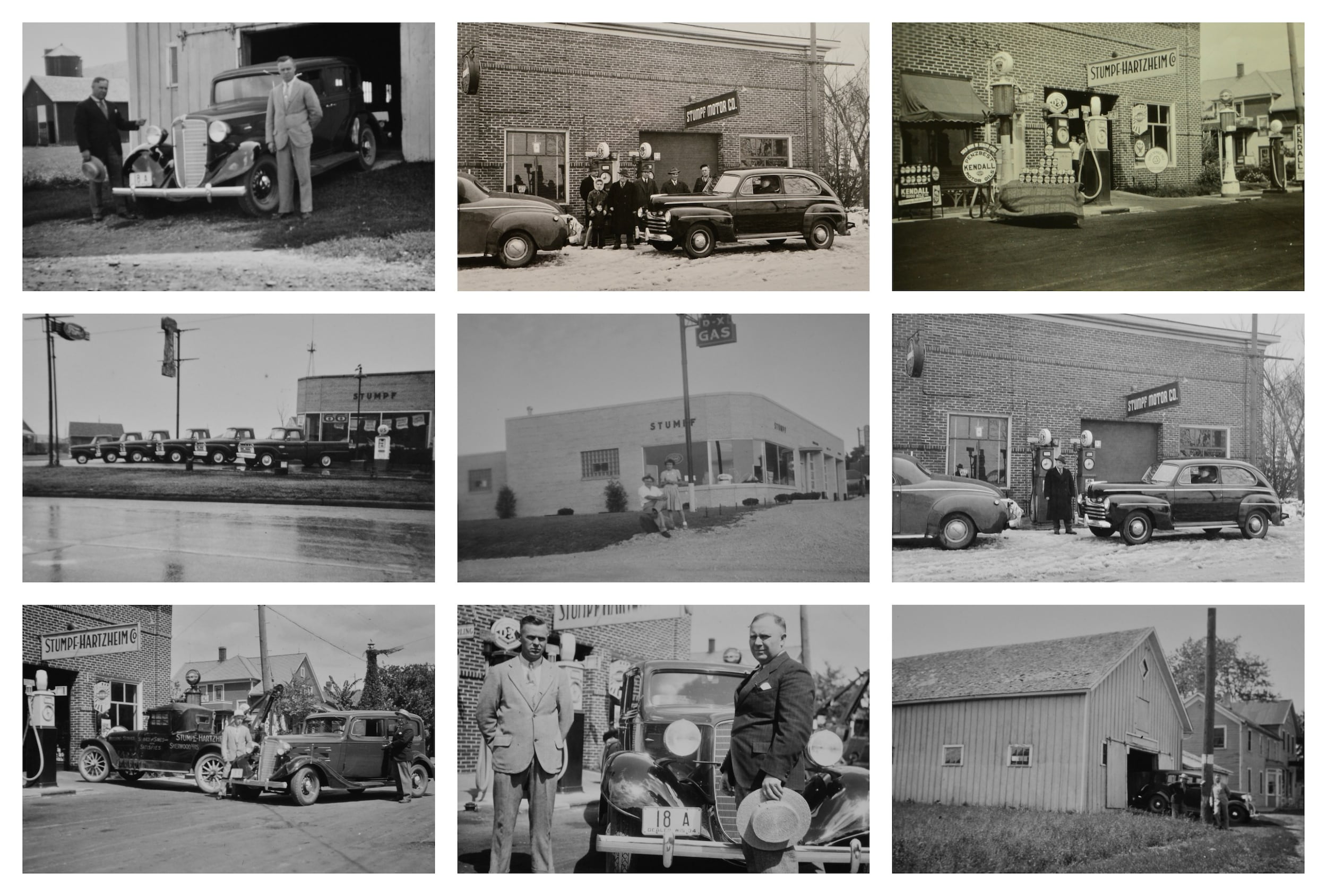 The Stumpf Story
It has taken Stumpf Ford a century to build our present public image. Founded in 1921 by John H. Stumpf and John F. Hartzheim, Stumpf Ford has a philosophy that the public is entitled to the best service possible in satisfying its transportation needs.
On December 13, 1921, Calumet Motor Company opened for business in Darboy. During that winter, customers hauled their "Horseless Carriages" with a team of horses into the shop for repair. The following spring, the founding partners moved the business by horse and sleigh to Sherwood, where they started the auto sales and service business of Stumpf-Hartzheim Company. The partners worked with car franchises including Chevrolet, Nash, Packard, Dodge and Plymouth.
The firm dissolved partnership on May 13, 1942, and John Stumpf continued the business. At the end of World War II, he built a new facility in Sherwood and took on the Ford franchise. His son, Les, took over management of the business in 1956.John Stumpf envisioned the dynamic growth and progress experienced by the Fox Valley. He was not only a business leader, but also worked hard at establishing High Cliff State Park and Calumet County Park. He retained an active interest in his family dealership and his community until his death in 1982 at the age of 92. (His original partner followed him in death exactly 24 hours later.)
From Sherwood, Stumpf Ford moved first to a new facility in Kaukauna in 1969, and then to its present dealership in Appleton in 1972. The Company opened a second Ford dealership in Neenah in 1986, Neenah Menasha Ford. In 1997, that store was sold to an employee. The exclusive Ford heavy-duty truck facility, L& S Truck Center opened in Appleton in 1989 allowing the West College Avenue dealership to be dedicated to the sales and service of cars and light trucks.Today, we are proud to begin our third generation with the automotive industry and our philosophy remains as it was originally founded. Les Stumpf as Chairman and Corey Stumpf as President still lead this company in providing total customer satisfaction through employees who provide reliable, courteous, and ethical service to our customers.
New and Certified Used Sales
Our full line of vehicles are available for you to look at and test drive. Feel free to contact our customer-oriented staff with any questions or concerns about our New or Certified-Used cars in our Inventory. Also check for any New Car Specials and Coupons, Rebates or Incentives we may be currently offering. Please contact us or call us at (855) 864-8134.
Les Stumpf Ford's Quality Service
Quality Care is the difference between buying the car you love and loving the car you bought. It is the commitment of Les Stumpf Ford is to provide you with the highest level of service and support possible. In fact, Quality Care is one of the greatest advantages of owning a Les Stumpf Ford vehicle. Our service department is committed to your complete satisfaction.